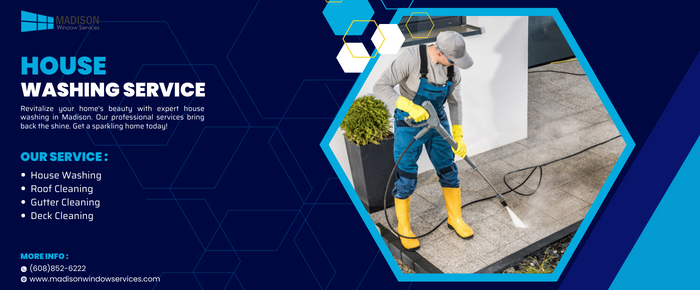 Book the Best Quality House Washing Madison
Tired of the dirty exterior of your home? House washing is what you need to schedule for regaining your home's curb appeal by deep cleaning of dust, dirt, grime, and mold. House washing is required to improve the appearance of the property, create a healthy environment, and prevent further damage to the property.
Madison Window Services is one of the most professional window cleaners. Thus, you can easily trust the company to offer you safe house washing services that best fits your requirements. Madison Window Services offers a wide range of cleaning services to help clients lead a peaceful healthy life. Every service offered is designed to meet the requirements of clients; thus, you don't have to worry when there is such a dedicated cleaning service that takes the utmost care of client's property. We will make your home look a lot more cleaner, so what are you waiting for? Don't let the dirty exteriors deteriorate the look or feel of your whole property.
We are well equipped to serve the best to our clients, which makes our company a widely chosen service for soft housing, window tinting, etc. There are dedicated staff to do every type of cleaning professionally, using highest quality of equipment which gives the best of the best results.
A neatly cleaned house is what Madison Window Services offers, the whole team utilizes safety standards at workplace. They are very skilled and are trained about the latest cleaning technologies for efficient house washing. Thus, relax. Call us to schedule a quality house wash for your property.
Get the perfect soft washing for your property, our staff members are diligent and they efficiently clean the dust, dirt, grime, etc. Soft washing is a gentle cleaning method for roofs, sidings, etc. They don't cause any water damage to properties, as they make use of less pressured water for cleaning. This cleaning method is very energy efficient. The best thing about this soft washing method is that it offers efficient results, preventing the growth of dust, dirt, mold, mildew, etc. Soft washing is designed to be a safe cleaning technique for house washing of exterior surfaces.
Hiring professionals for soft washing is the best, as they are skilled to offer the right cleaning for your property. They have the required cleaning equipment for efficient cleaning of the required areas of the property.
We will be helping you build a cleaner looking property that feels perfectly hygienic. Cleanliness is our first priority; thus, don't worry when you have the experts in house washing.
Maintain the value of your home by having professional soft washing done by experts of Madison Window Services, where properly devised methods are used to clean trims, window screens, etc.
There is dedicated staff to contact if there are questions regarding the house washing service offered. Schedule house washing that fits your needs.
Get the perfect quality service at the best rate!