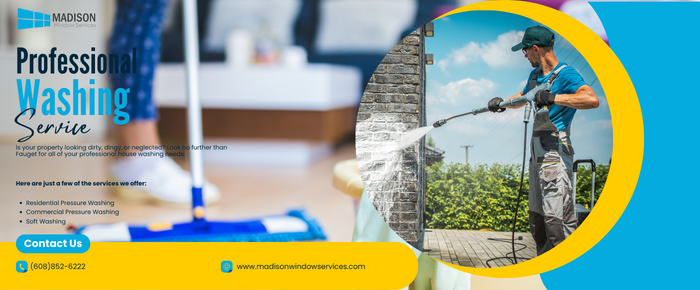 Ravel the True Potential of Professional Washing Service
Are you a homeowner and never considered booking a house washing service to clean your home? You are not alone! Most homeowners overlook how important house washing is for their properties. With a fraction of the cost, you may completely rejuvenate your cherished property. Now question may come to your mind, how you will do it? A full renovation can be done by hiring a reliable & experienced house washing service. It can revitalize your property.
Signs Your House Needs to Be Washed
A dirty house is more than an annoyance. Apart from raising the chance of flooding and water damage, it may raise your energy bills. Consider hiring a reputable house cleaning service if your home is starting to show its age. Here are a few typical indications that it's time to power wash your house:
Discolored roof and walls
Grimy siding
Stained walkways and driveway
Stained deck
Dust and cobwebs in corners
Higher energy bill than average
Choosing the Right House Washing Service for You
Homes can withstand the elements and daily wear and tear. Rust, moss, mold, and mildew can tarnish siding, impair interior air quality, and even result in moisture damage. Think about using house washing to clean your home's exterior! Keep the following tips in mind when looking for a house-washing company:
Get a guarantee. Get a service guarantee in writing if at all possible. In this manner, you will be protected against any flaws or issues.
Ask about insurance. Every cleaning service and home contractor needs insurance. For details on the caliber of the provided services, the crew's professionalism, etc.,
See the reviews. Reviews can give you a picture of a company's services in a way official description can't. see the reviews and understand the details on the caliber of services provided & the crew's professionalism.
We recommend the best house-washing option
Take caution before hiring a house washing service to clean your home. We at Madison Window Services are experts in power cleaning. We receive extensive safety training and education to clean surfaces safely and effectively. We hold business licenses and insurance to protect our employees from injuries and homeowner's property from damage. For delicate surfaces, we employ soft washing methods, and for tough stains, rust stains, and graffiti, we use a high-pressure power washing technique.
High-pressure water can damage fragile siding, ruin the sheen on wooden surfaces, remove paint, and much more. Many home cleaning projects use our soft & pressure washing techniques for years. Unlike others, we offer 100% Satisfaction Guarantees. We do gutter cleaning, window cleaning, and house washing services, to help homeowners in Madison. We identify the issues better than others and our soft washing thoroughly cleans window screens, outdoors. You can confidently use our house washing techniques irrespective of your house cleaning projects.
How House Washing Work
The special nozzles in the soft & pressure washing process control water pressure easily. It is effective to remove dirt and debris from homes. Oxalic acid and ammonia are advanced cleaning products useful in loosening dirt accumulation. It will make things easy for pressure washers to remove the remaining debris.
Our cleaning services typically start with the technician inspection to trace the signs of mold growth, damage, and mildew. Then, we begin by cleaning the shingles, gutters, and siding on your roof. We have advanced tools used in the process.
Most of our house-washing projects require only one day of work. You can discuss all aspects of your home with our local pressure washing specialists. We can recommend the best cleaning solution based on your house. We recommend regular house washing as it can increase curb appeal, prevents pest infestations, and leaves your house cleaner than ever.